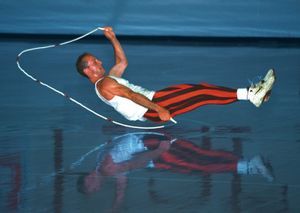 Guinness World Record Holder, David Fisher, The Rope Warrior brings his visually entertaining jump rope show right into your living room!  This interactive, educational, virtual show can be used at home for remote learning, or as an in-school program, or a field trip.  Students will learn valuable lessons about teamwork, and not being afraid to make mistakes.  Also, throughout the show, The Rope Warrior will ask the audience to join in the jumping fun!  With help of a GoPro camera, the audience can jump along and see what it's like to do interactive jump rope skills like traveling and double-dutch.  Is the show educational?  No bones about it!  As The Rope Warrior jumps with a giant skeleton, students will learn all the major bones in the human body to a catchy new jump rope rhyme!  David is also available for live question and answer sessions, as well as virtual jump rope workshops (each sold separately)
Virtual School Assembly Now Available!! Please click below for preview: 
COMING SOON: We will be offering a variety of live stream and simulcast performances customized to schools, camps, libraries and other programs to supplement your physical education, music and music industry education, financial life skills, and other education and entertaining topics.  
Our flagship, exclusive - The Virtual Ropenastics Program features nationally renowned Guinness World Record setter David Fisher, aka "The Rope Warrior" - an excellent example of supplemental physical education and entertainment combined. 

In some instances, these online performances or workshops have fundraising components and can serve as a field trip style event or  licensed for private performance viewing as part of remote or in school entertainment and education.   Full ticketing functions and payment processing will be provided.    Please contact us today at marketing@pickyourticket.com or call 858-276-4098 for more details on bringing this exciting program, and others, to you today.  .